It's too hot - too hot to go out, too hot to swim, just perfect with the a/c on. Even the birds are hot and panting!
I promised you some photos of the Condors we went to see in a nearby canyon. Here are the photos I got for a two page LO.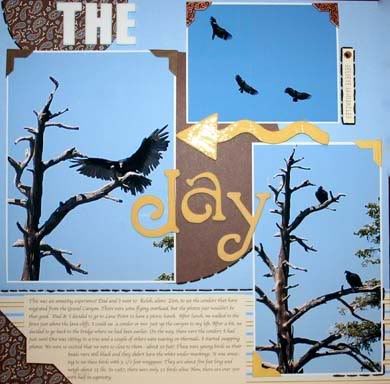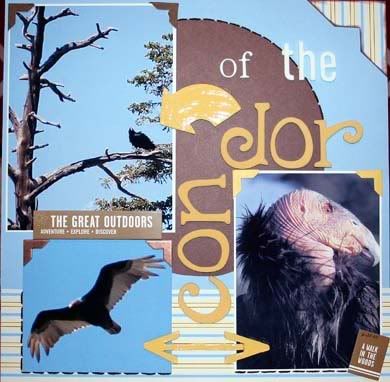 The Day of the Condor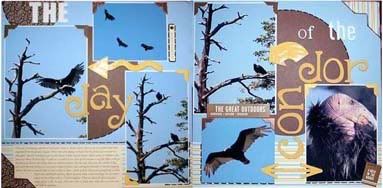 I've not been able to scrap for over a week because it hurt to bend my knee. It really hurt! I finally went to the doctor and got a cortisone shot in each knee. So, today I was good and able to take photos of things I did during the two weeks before my injury.
Here they are:
This was my way to use my my "x" alphas. Good thing I had lots of zeroes, too! I love taupe, black, and white. Photo is of DS and DDIL.
XOXOXO
The next layout was a challenge. I loved this PP so much, but wanted to find a unique way to use it. I decided to do some cutwork and insert the photo under the cut circles. I'm also trying to use up some "stuff." I have too much "stuff." So, with this LO, I was able to use a whole package of clear page pebbles. Do you remember them? I stuck them on some of the circles to give some dimension, LOL. One package gone 11 to go. *sigh* The photo is of DS and DH where we have our beach house in Oregon.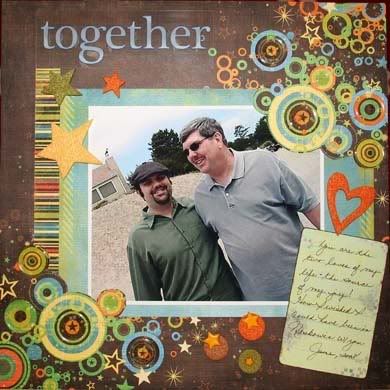 Together
I found this LO today in a pile of papers. It was from at least two years ago! I decided to use more "stuff" and finish it up while using more of the things I manage to squirrel away. So, today, I added a title, some brads, buttons, nails, and Jolee's Dodger goodies. I managed to use up yet another package of embellies. The LO looks so outdated compared to what I currently do. It's funny how we evolve. DS gave DH a trip to LA and a Dodger game as a Father's Day gift. I love my guys! It looks like such a bad LO, though, LOL.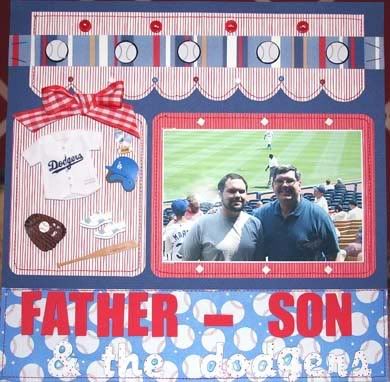 Father - Son and the Dodgers
I keep ordering more stamps. I hated making cards. It seemed like such a waste of time. Now, I'm able to find some enjoyment in process. I love water coloring the images. I find it quite relaxing.
The first card was sent to DS a bit ago when he was under the weather.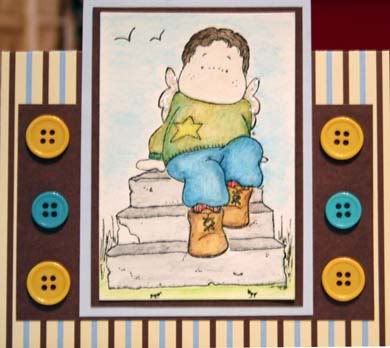 This is a card I sent to a friend who was kind enough to bake a wonderful loaf of wheat bread for DH and me. DH's first thing was to look under it to see if there were bread machine marks, LOL. There weren't! It was perfectly made by hand. Do I have DH spoiled or what?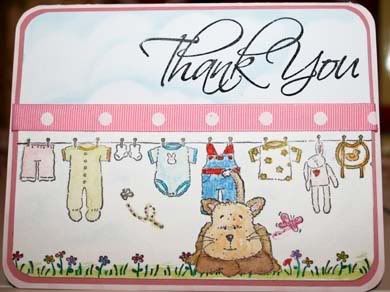 Thank you for stopping by. I love to see that you've returned to see what's new. I'd love to have some comments to read - don't be shy!
Have a good one,
Chris