The February Visiting Teaching Lesson was challenging for me. For some reason, after reading many related articles, I was left with a feeling of guilt. I've always been a clever shopper, but the operative word is "shopper."
I have never been one to covet the possessions of another. I have, admittedly, coveted the figures of other gals! LOL When it comes to possessions, I've not wanted something just because someone else has it. OK, I just thought of what I actually am envious of - the gals who have managed to create at home businesses to supplement their income! Since we moved to Utah, I am awed with the talents and creativity gals have utilized to create income. I have had absolutely NO inspiration! I've tried. I sometimes lay awake at night pondering what I could do. I tried selling scrapbook layouts via this blog and on ebay and it just didn't catch on. I had one absolutely precious person who bought all but one that I posted on this blog. I was basically giving them away, LOL, at prices that were dirt cheap. I don't think my scrapbook layouts are that bad! LOL. Sadly, another lesson learned was that when I posted them on ebay, I was totally demoralized! I wound up having to pay $7.00 plus in ebay fees for NOT selling any layouts! YIKES! So, it was back to square one and that is where I remain!
Because we were a family of three, we didn't really need to stretch our salaries extremely thinly. We'd certainly watch what we spent, but didn't have a huge family to provide for. It was just easier to a degree. Now, there is just the two of us. It doesn't seem useful to shop using coupons since what we do get already lasts a long time. I think it would be a totally different game plan if we were providing for a large gaggle of kiddies! LOL I am NOT an expert on the lesson's objectives this month. I felt the lesson was extremely useful and a help to me (as I sit here with this week's grocery store ads making a list of bargains, LOL!
Here are some visuals for the February Visiting Teaching Lesson. The first one is based on Elder Joseph B. Worthlin's talk on Earthly Debts, Heavenly Debts, Liahona, 2004, May. This discussion is so rich with supportive helps which, in today's world, really have importance. I chose to take the five
key
steps to financial freedom and convert them into a visual that is perfect for the month of February!
I used scrapbook paper and cardstock to construct the hearts. I added machine stitching to add some texture. Then, I printed out a vintage lock and added each concept Elder Wirthlin provided to a key which has been printed on grey cardstock.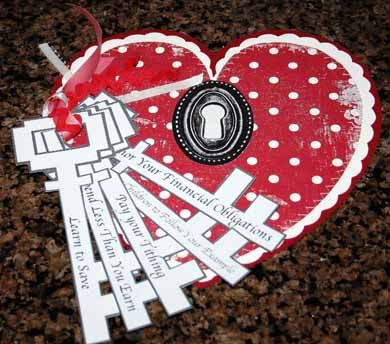 Here are the keys. Because of the blog's limitations, I had to set the width at 390 pixels; however, when printed, the size was set to 450 pixels in width. I hope that helps.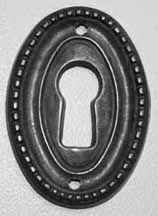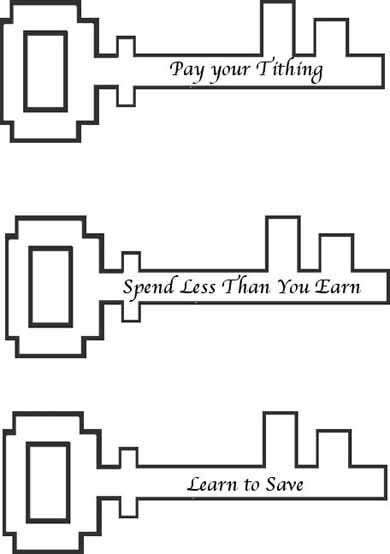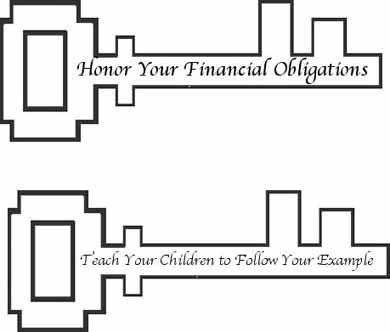 The next set of visuals has a coupon theme. Oh, how I wish I were better at utilizing coupons! It just seems like so much work to go to this store or that store. When I was working, I just didn't have the time or energy to do that. Hats off to those of you who can.
I'd love to begin with a photo of a little coupon holder. Each section has a label at the top to determine coupons for that specific pocket. Some that I included are: meats, vegetables, dairy, canned goods, etc.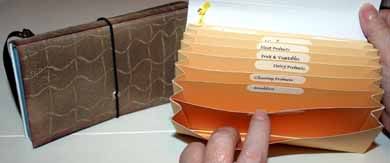 Now, for what I hope will be the best idea I'm sharing. Some coupons related to February's Visiting Teaching Lesson. I've created and printed each of the three texted coupons to give to my girls. I've provided a blank coupon in case you would like to use it as well.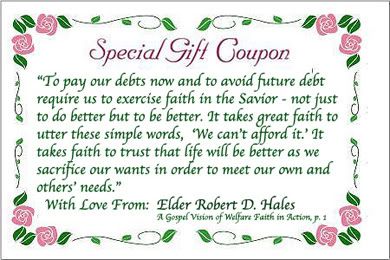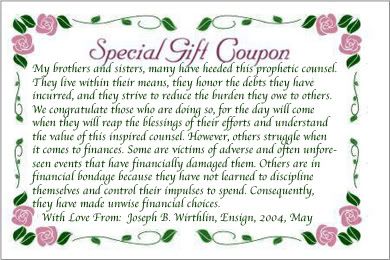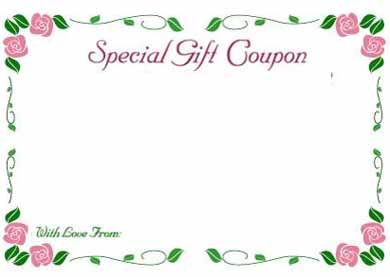 I hope there is something here that you may be able to use in your February Visiting Teaching Lesson. Let me know if I may help you in some way! I absolutely love creating things to share. Most of all, I hope you are a better example of this lesson than I have been. It's never too late. I know that I'm going to try to do a better job!
Thank you so much for taking the time to visit my blog. I love your visits and cherish each of you.
XO,
Chris