Summer has decided to really turn on the heat at a time of the year when the temperatures should be gradually decreasing. We are well over 100° F. The temp inside the car yesterday was 147°! So, we're having July temps in late August! With that being said, Tilda needed to go for a swim. It helped me keep cool to do this card, LOL. I used the new Swimming Tilda (which, I think, should be named Snorkeling Tilda. I had so much fun with this card which has turned out to be one of my very favorites of the Tilda cards I have ever done. Let me know what you think!
Is this cute or what? Does Tilda look like she is under water? That was the effect I was trying to achieve with the microfine glitter. I colored the image with my Copics and then did the covering. I kept the colors to teal, tan, and white with splashes of red, green, and yellow on the stamped image. The papers I chose to use were those, I thought, had a watery feel.
Click on photo above for a larger image, if you wish.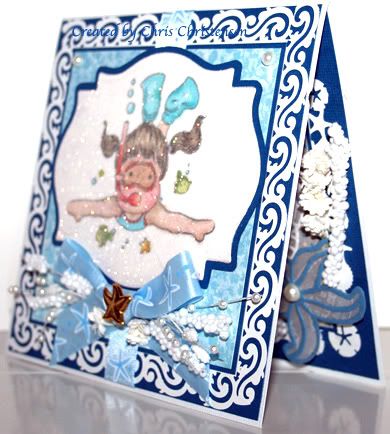 I don't know if the side shot gives you another view of the image. Maybe you can see how the image is so muted.
I had gotten this sand dollar stamp and thought I'd put it to good use on this card. I love, love, love sand dollars. Every summer, for 22 years, we'd head to the Oregon Coast for the summer. We were right on the beach. I'd get up every morning and be the first on the beach to gather up the sand dollars that would wash up over night. There were times when I found well over 100 in one morning! We have a garage full of them, LOL. Every year, I'd give each of my students a sand dollar at some point during the year. They loved getting them. I digress. OK, back to the card. I changed the border punch, added some shell embellishments, and a sentiment made with alpha stickers.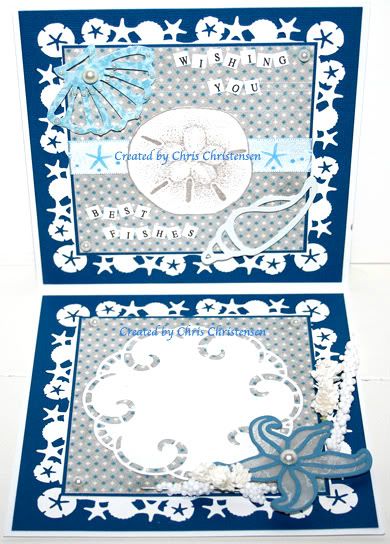 This is the completed inside. I added an area for a personal sentiment which I chose because it resembled a shell.
There you have it! You likey?
Thank you so much for stopping by! You are just the sweetest gals for taking the time! Come back again!
XO,
Chris
I would like to enter this card into the following challenges:
All That Scraps Blog #13 (ends 9/16) - Stretch Your Imagination
Colour Create Challenge Blog
#77 (ends 8/24) - Color Challenge
Crafts and Me Challenges
- #48 (ends 8/24) - Blues and Blue Greens
My Mum's Craft Shop
#19 (ends 8/23) - Summertime
Scrapbook Sisters
#48 (ends 8/23 ) - Blue
Clear It Out Challenge Blog
(ends 8/29) - Glitter
Deep Ocean Challenge Blog
#6 (ends 8/28 ) - Light Blue
My Time to Craft Challenges
#153 - "G" is for...
Papertake Weekly
- Bingo (I chose center, vertical column)
Shopping Our Stash
#13 (ends 8/22) - Weakest Link (for me, It's Magnolia Stamps)
Tuesday Throwdown
#62 (ends 8/22) - Non-stamped Sentiment