Hi Sweetpeas!
I hope this message finds you well. This is all doctor appointment week for us. Make sure you get your flu shots! We got ours yesterday. The temperatures are supposed to plummet tomorrow by at least 25 degrees! woo Hoo! Come on Fall! They are even predicting snow in some higher elevations.
I made this card a couple of weeks ago, but forgot to take the photos and post it. I hope you like it. I used our little Tilda wearing boxing gloves stamp. I did hte last one in red and charcoal. I decided to girly this one up a bit. Here she is:
I used paper from my stash and some lovely flowers from
Hooked on Craft
. I made the wrought iron gate using my Cricut. I liked having a bit of texture behind the image. The scalloped mat was done using my Nesties with glittered cardstock. I added two little pink ribbons to Tilda's pig tails. I love it when I can add teeny tiny bows!
This is the inside of the card. I'll just insert all of the photos at once.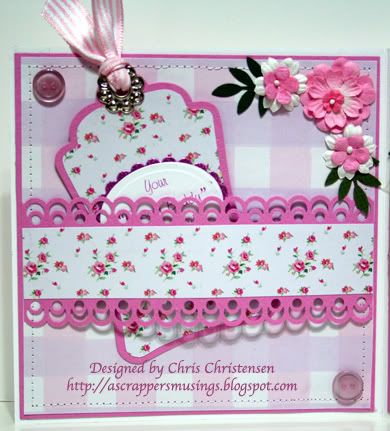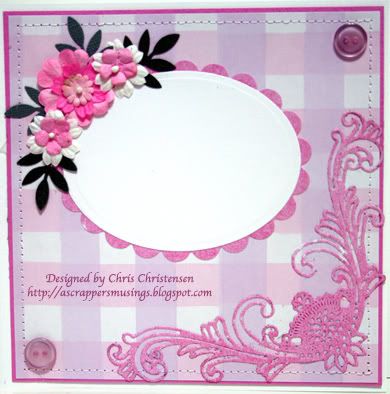 I love the softness of this card. The tag is removable as you can see. I also left an area for personal sentiments. The oval was bordered witht he pink glittered cardstock as found on the cover of the card.
Thank you so much for visiting. I hope you liked my work. I'd love a comment if you have time time!
XO,
Chris
I would like to enter this card into the following challenges:
Just Magnolia
- Breast Cancer Awareness
Paper Cutz Challenges
#114 - ends 10/27 - Breast Cancer Awareness
Crafty Ribbon Challenge
#5 - ends 11/9 - Bingo
Simon Says Stamp
ends 11/1- Anything Goes
Paper Playtime
#58 - ends 10/29 - Say it w/Sentiments and use Buttons and Bows
The Outlawz
- Pink Awareness
Magnolia Down Under Challenges #119 - ends 10/29 - Getting Punchy