I apologize for getting this up so late. Here is your LO with directions. It really isn't hard at all as long as you get everything together ahead of time. The colors on the photo aren't exactly true because I took it at night. One shot was too beige and this one was a bit on the gray side.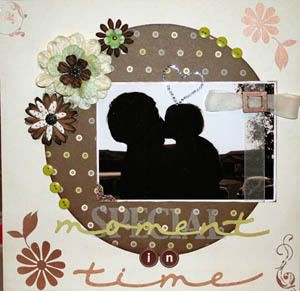 Materials needed:
1 sheet each of We Are Memory Keepers Precious Metals - Coppered Out - rivets, orbits, and cornice
ColorBox ink in Dark Brown
We Are Memory Keepers Copper rub ons - flowers & flourishes
6 matching buttons
Bazzill flowers (large)
Prima Flowers (small)
Mambi Rhinestone Heart (I cut the outer section to s-t-r-e-t-c-h the use of the embellie.)
We Are Memory Keepers photo corner & ribbon side in antique copper (from hardware collection)
3 Brads (I used 2 Making Memories Antique Copper; 1 WRMK small antique copper from hardware collection)
Queen & Company alphas (for the word "in")
white vellum (optional)
adhesive
sheer ribbon
circle compass
Process:
1. It is so important to get everything together before you start. I had difficulty w/ the tite colors and finally gave up and used my Cricut.
2. Using the circle compass, construct a circle that is 9 1/4".
3. Glue your circle just off center to the base sheet. I have mine up and to the right a bit.
4. Print your photo. Mine is 4 x 7.
5. Cut a strip of ribbon and glue the ends behind the photo. Next, add your bow to the top of the strip. Glue into place.
6. Add your flowers to the "ten o'clock position." Add the six buttons at "two o'clock and "eight o'clock."
7. Now, you are ready for your title. I used white vellum for the word "special." I used my Cricut to cut the aphas.(Base Camp)
8. Next, I used the Cricut (Opposites Attract) for the words "memories" and "time." Glue into place.
9. Add your alphas for the word, "in."
10. Decide the placement of your corner embellishments and place them in position. The rub ons I used are copper colored.
11. Add your bling heart.
Now, was that hard? The important thing to keep in mind is getting everything together ahead of time. There are lots of goodies on this LO and you want everything to work together. I'd love to see what you make. Please let me know where your's is posted!
I hope you liked this little mini lesson.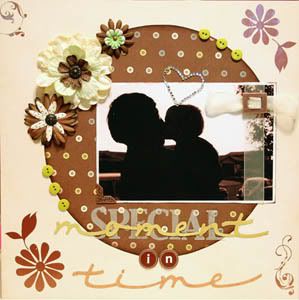 Don't forget to post a comment on Sunday's entry to get your name in the hat for a great RAK!