Oh, this time of the year is just gorgeous! We had lots of rain yesterday. It was beautiful!
I worked on a LO today for five and a half hours. If it could go wrong, it did! It began when I wet the PP in order to make the rolls. The entire sheet buckled. I ironed it. I thought it would help flatten it out. It didn't. I attached it to the CS with the hope that by gluing it, it would flatten out. It didn't. The only thing I didn't try was running it over with the car! By the time I was done the LO, I was so discouraged and didn't like the resulting effect. No matter what I did, I wasn't pleased. Here it is: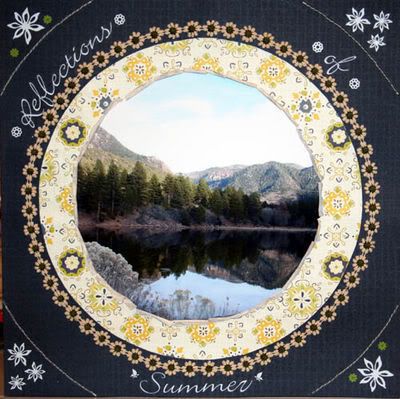 The photo was just so beautiful that I wanted to scrap it. What do you think?
I worked on two others since Friday. One is a scraplift (My Boys) of a LO I saw in a magazine. It's funny. I don't scraplift. I've learned two things: 1. It's harder to scraplift than do it yourself , and 2. It never turns out as well as the one you are copying! So, why bother? Here is the lifted one: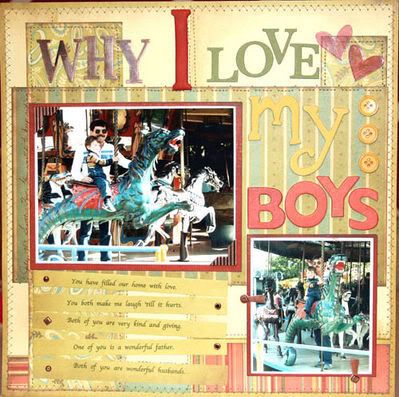 When I saw it in the magazine, I fell in love with it. I loved the way the PPs were arranged. The original artist did it in red, pink, and white. Her title was done in a different way. My version is lacking that special something hers had. I'm glad I did it. I love the photos. Our son didn't want to get off that merry-go-round. It was his first time on one!
With the next layout, I just loved the Jenni Bowlin lined paper. I wanted it to be "boyish" even though the paper was a salmon color. I decided by placing a strong print behind it, it would look more "boyish." I like how it turned out.
I hope you will come back for tomorrow's Monday Mini Class.
I think you'll find it easy and ending with a great LO!
Now, to see if you're reading my blog, anyone who adds a comment to THIS SPECIFIC POST will be eligible for a RAK from me! I'll place your names in a bowl or something and have DH pull a name out. I'll post the winner here, and we'll go from there. How does that sound?
See you tomorrow! Have a good one!