Happy Monday! Fall in not too far off here in the desert. You can feel it coming! It is such a beautiful season rich with photo shoot opportunities. The leaves are beginning to change at the higher elevations. I can't wait for sweater season! Fall is good!
I spent some time looking for my Heidi Swapp acrylic block yesterday. I have no idea where it went. I even kept it in its packaging so it would be easier to see. Well, that didn't work, LOL. I may have accidentally tossed it out. I do that sometimes. Needless to say, I've ordered another one. I'll probably find it today now that I've ordered a second block.
Today, I thought I'd start something new. Each Monday, I thought I'd create a LO and then give you the steps to make one like it. Your feedback will be VERY important. I'd love to know if it was helpful. So, speak up!
Feel free to use these instructions to make your own layout. You are free to link to this page from any forum, etc., if you wish, but please do NOT copy this information and/or photos to use for your own classes/forums/webpages without my permission.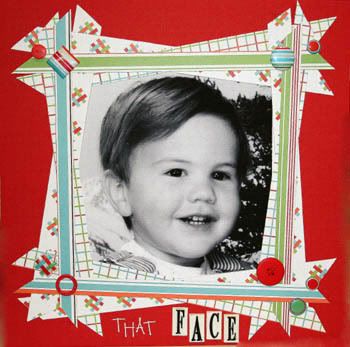 Supplies needed:
1 sheet of red Bazzill cardstock
1 sheet of SEI Smarty Tic-Tac-Toe
1 sheet of SEI Smarty Hopscotch
1 sheet of SEI Smarty Jumprope
SEI Smarty Puff Stickers
Buttons
Alphas
Adhesive
Select the cardstock of you choice. Next, select three complimentary sheets of patterned paper. Decide which design will be the top layer. Cut four strips measuring 11" x 1/2". Decide which paper will be the wider strip. Cut four more. This time, they will measure 11" x 7/8". Lastly, cut your middle strips to 11" x 3/4".
Print your photo to your desired size. The one in my LO is approximately seven inches square. Attach your photo to the center of your CS making sure that sides are even.
Now, you are ready to apply your first three strips. At an angle, position your widest strip just above the photo. Now, apply your 3/4" side strip at yet another angle. Lastly, place the narrowest strip to the top. Glue the center of the strips to each other and then glue to your cardstock at the mid point. Your LO should look like this: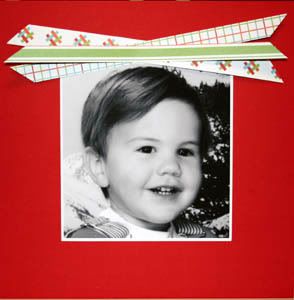 Repeat the same process on the other three sides. Make sure that the strip you selected for the top when you first began is also the same for these three sides. Apply adhesive at the midpoints and then to the cardstock.
Look at your ends. Are there any you want to slip under another? Do a litte "weaving" at the ends, if desired. When you get the look your seeking, glue all strips into place. Now you are ready for the final step.
Your final step is to apply embellishments at the four corners. Select what you want and apply. In my LO, I had a variety of embellies as well as a varied number at each corner. Create your title and place it on your LO the way you prefer. When done, your LO should look like this: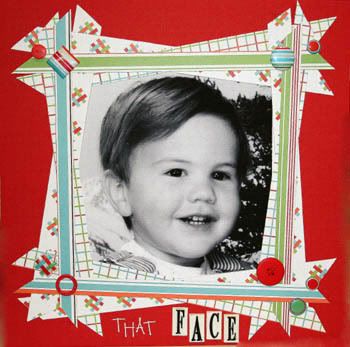 I hope you liked my class! I wish you the best in creating your own LO using this design!
~Chris