The mountains are all blanketed in a layer of white. It looks just beautiful outside. It just gets me in the mood for Christmas!
Our exterior lights just make the house seem festive and inviting. Love this season!
I promised you a new mini lesson. I'm late, but here it is!
CIRCLE PUNCH POSIES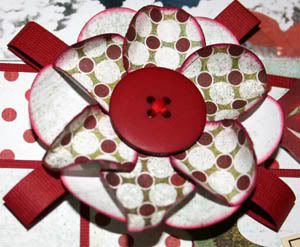 Here is a sweet idea for making a flower using two different sized circle punches. For my flower, I've used a one inch circle punch and a 1 1/4 inch circle punch. I found that these two sizes work very well together. Here's what to do:
Materials:
2 circle punches
2 different PPs or one that is double sided
ink
pop dots
button
adhesive
Process:
1. Punch out 12 one inch circles.
2. Punch out two 1 1/4 inch circles.
3. Ink the edges of all the circles. You can do both sides if you wish.
4. Decide which circles will be your upper layer and which your bottom layer.
5. Take one of the larger circles and overlap your six smaller circles. Glue them
around the edge of the larger circle. Overlapping as needed. There should be a
nice little pentagon shape in the center.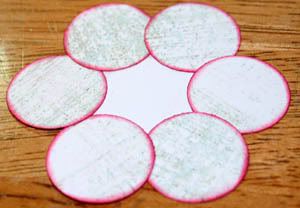 6. Using your other large circle, repeat using the remainder of your circles.
7. Roll and pinch each petal in your upper level to create a nice curl in the petals. I rolled mine around my piercing tool.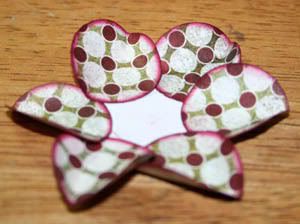 8. Decide on the placement of your upper layer on the bottom layer. The petals should NOT line up but alternate in their position.
9. Attach a pop dot or more to the underside of the upper layer. Place this layer on top of your bottom layer.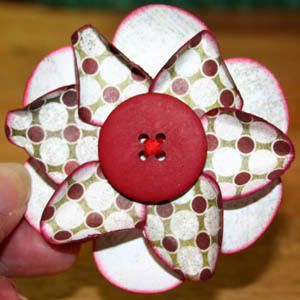 10 Glue a nicely sized button to the center of your flower.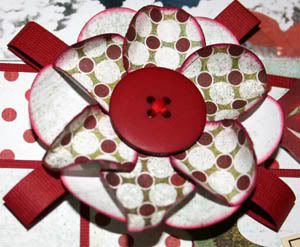 Tah Dah! You're done.
Now, you can make nifty little flowers to add to your layouts or even your handmade cards!
Have a good one!