Today is 2/20. I haven't blogged in ten days! YIKES! It isn't that I haven't been busy. I have been! For a while there, I wasn't sure if I was coming or going! Now, I have three major projects done! Phew!
The month started off with my feeling behind before I got started. I did my first card making class. I'll post the cards in a couple of days. It went well. I really worked hard preparing all of the supplies to minimize their work and maximize the time in class. Each gal left with a nice selection of cards.
It's raining here tonight. Earlier, we had thunder and an outflow that was really strong. The wind and rain was really strong. I thought hail was hitting the roof. Our house is extremely quiet. I could hear whatever was falling! It's so nice to have rain in the desert.
Here are some LOs I thought I'd share. These were done in January. I had to wait to post until February. I hope you like them. I got the papers through a site,
Happy Scrappin' Scrapbooking
, which is in Delta, Utah. If you are into Cuttlebugs and Cricuts, this site has a very nice collection of related supplies. I am really into embossing at the current time. Go Provo Craft!
The first one is a shot of Pine Valley Mountain. We can see this from our home, although not from as close as the photo. The snowflakes are rusted metal. I love those! It was perfect with the paper I chose to use. I used chalk to color the bird and did some machine stitching. It's hard to see, but there are crystal snowflakes on the circle as well as the smaller rusted flakes.
Pine Valley Mountain
The next LO features my DDIL. She and DS visited Sequoia National Park. This is a tunnel carved into the base of a tree. Sequoias are so tall. DDIL is 6' tall, and she's just about as high as the opening! I really, really like the diversity of Basic Grey's Figgy Pudding PP. Although it came out for Christmas, the colors are perfect for other situations as well.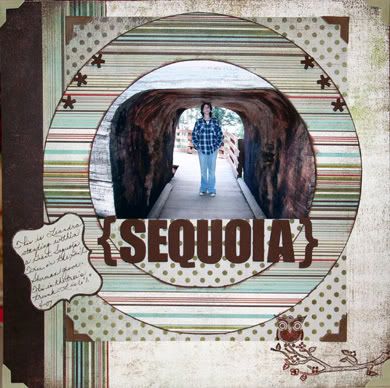 Sequoia
The next LO is of my DDIL & DS. They are such cuties. They were flying from Portland to Las Vegas when this shot was taken. I really appreciate their sharing their photos with me. I absolutely Love this PP! For some reason, I was into brown this month, I guess. The flowers are elevated and have lots of dimension. Across the top is pale blue loopy ribbon. I love cutting flowers out. I find it very calming. I also used gold Glimmer Mist on the brown Bazzill cardstock. You can see it sparkling a bit. It sure added a nice dimension to the LO.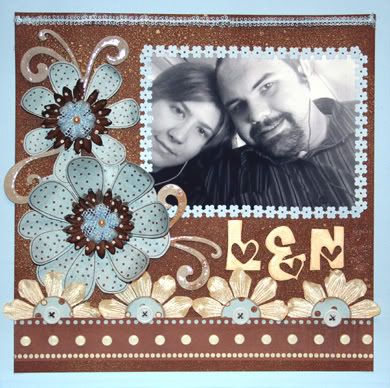 L & N
Finally, my last little project was this two inch square laminated pocket calendar. I won't take up space with photos of each month. I did embellish each page as well as machine stitched them. Think SMALL! I heat embossed the aluminum numerals using copper to match the PPs . I also used matching ribbons to hide the metal loop. It's so tiny and handy w/out taking up space.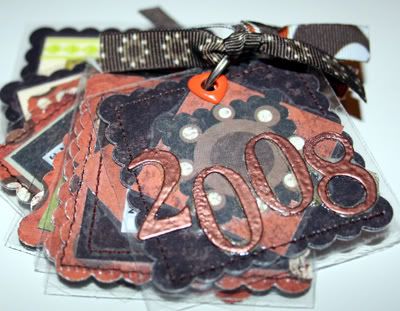 2008 Two Inch Pocket Calendar
I'll have some more things going up later this week. I'm a bit under the weather and resting is a priority. I think I wore myself down.
Have a good one!
XO