Having your son and daughter-in-law fly in for an extended weekend! Oh, how I have missed them! We haven't seen our son since November. It is a mother's joy! It is so hard seeing your child grow up and move away! He will always be my baby regardless of how old he is. I really love the children's book, "I'll Love You Forever" by Robert Munsch. Whenever I would read it to my students, I always had to fight back the tears! I think it is one of the sweetest books ever. If you haven't read it, please do!
I'd like to invite you to
Happy Scrappin' Scrapbooking's
card of the month and layout of the month contests! The prizes are gift certificates to the store! I think the amounts are pretty good, too! Stop by the forum and read about the card and layout of the month contests! I know some of you are expert card makers as well as gorgeous LO creators! Think of the new goodies you could buy w/ the gift certificate! Come on over and play!
Spring is in full bloom as are our allergies! Yuk! The good side is that it is truly a beautiful time of the year. I dread the heat that is looming just around the corner!
Do you ever wonder if things that happen do so by coincidence or if your paths were meant to cross? I've recently had several experiences that just amaze me. These were situations where a perfect stranger was giving, caring, and willing to help! Those of you who did this, know who you are. I am so grateful for your kindness. Thank you so much for your sweet help! It's been like that for the past couple of weeks! I am so humbled!
I've been scrapping lately - having fun! I have part of my DT work done for one site and am waiting for materials from my other DT site. Of course, I can't post their LOs as much as I would like to! LOL However, I have some to share with you. The photos aren't that hot, but you'll get the idea! Here is the first: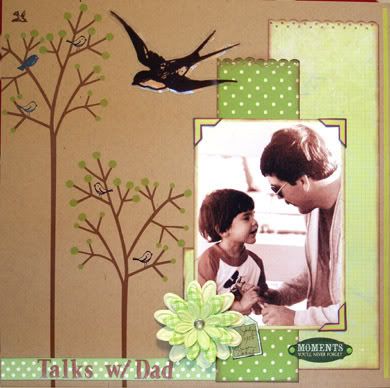 Talks With Dad
In this layout, I felt that the trees were pretty bare. I used Hambly rub ons to add some birds to the branches. I also added a large brown bird transparency, some copper colored rub ons on the ribbon to make the title. The LO was quite a change from my usual heavily embellished LOs.
The next LO is hard to see. White just doesn't photograph well for me. The background CS is textured like a dotted swiss fabric. All of the little dots are raised. I used blue dotted PP inside the large circle to carry the dot theme another step. I like the colors. Just before the plastic letters are four little tags. Each has a word to complete the full title.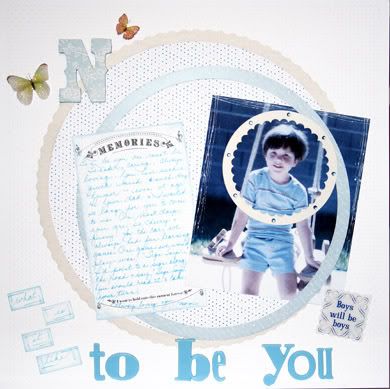 What is it Like to Be You?
The last LO I have to share is another one that is very simple. The brown cardstock is a very pale taupe. It looks so brown in the photo. It is a true pinky tan, LOL. I had forgotten just how much I love taupe and black or navy together. I used to have a couple of outfits in those colors when I was teaching. We fell in love with this steam clock. I thought the photo could have been better, but still like the composition. Because it was night, it was hard to capture all of the textures.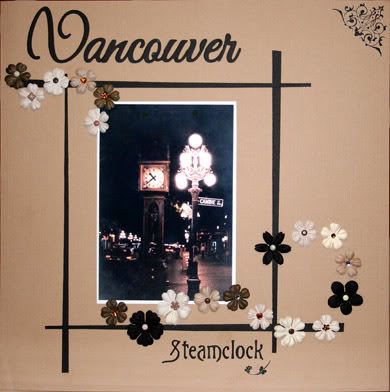 Vancouver Steam clock
Thanks for stopping by! I am just delighted to share my work with you. I hope I have inspired you in one way or another. Please feel free to leave a comment! I just might send a RAK your way!
Have a good one,
Chris