The wind is blowing again today. We've got the house all closed up to keep out any pollens that always affect DH and myself. It is supposed to hit 80° over the weekend. The dreaded summer is all too quickly approaching. Yuk!
We had a lovely visit w/ DS & DDIL. DDIL passed her orals and now has a Masters in English! We're so proud of her! I wish they were closer. It is so darn hard when they leave. I know it'll be months before we see them again. I don't know how families with members in the military services tough it out! Blessings to them!
I haven't been up to much. I've been working on design team layouts all week. I did have time to squeeze in two just for fun! LOL It feels good to do one just because... This LO is of DS when he was 4, I think. DH and I haven't looked closely at it yet to determine DS's age. This was in June or July on the Oregon Coast. We always loved the Oregon Coast and spent every summer there until a couple of years ago. I got to playing with my star punches. It was nice to use them again. I've had them in my punch basket for quite some time. I think they were one of the very first punches I bought. I think a set of circles was first, and my set of stars came second. Here it is: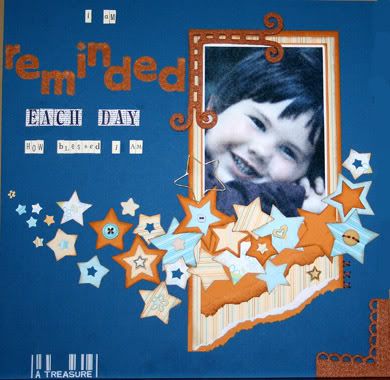 I Am Reminded
I forgot I had another LO completed. This one journals how our sweet son got his name. Being educators, it was really hard to pick a name! DH or I would pick a name and one of us would say, "No, I had a kid once named that and he talked all day," or something similar. So we named our son after a child on TV who later grew up to be on drugs. Go figure. Maybe we should have stuck with Gunnar!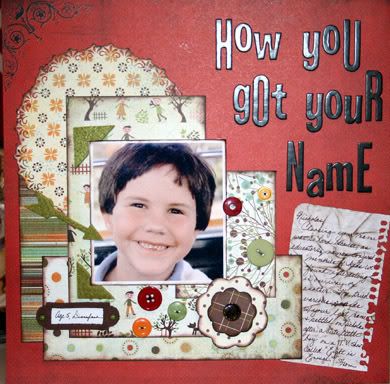 How You Got Your Name
I hope to do more layouts over the weekend. I hope I get to work on them. I'll post when they are done. I want to try a couple of new techniques. If they turn out decently, I'll be sure to share.
Are you doing anything special for National Scrapbook Day on May 3rd? That day is just a couple of weeks away!
Thank you for stopping by!
Chris