It is just so wonderful having our son and daughter in law with us. I hate to see them go tomorrow. They were such sweeties by helping with a huge project that my sweet husband couldn't do alone. I love them so much! I wasn't raised in a very affectionate family nor was my husband. We knew we wanted to make sure that our child would know the love of a mom and dad the best we could do. I think we've achieved that goal. He is solid in his knowledge of how much we love him. It's funny how we take things from our childhood and modify them to better meet the needs of our little family.
I have a couple of LOs to share with you. I did these as part of my design team projects at
Four Scrappy Sisters.
This is the
April Petite Kit
. The pattern paper is just amazing! It sparkles! It's nice and heavy! It is simply gorgeous! I hope you like what I've created! Leave a comment if you wish! I love when comments are left!
He Rawks!
This layout was fun because of the triangular area I decided to use. I wanted to keep it boyish. I painted the backs of the ghost shaped stars, added some matching photo corners and a bit of bling! Love this!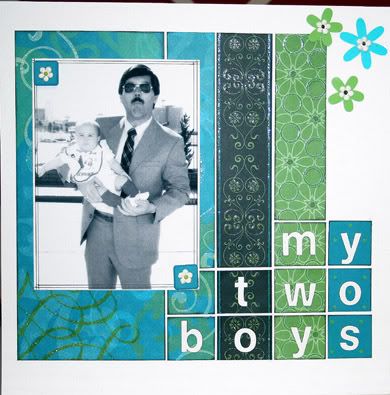 My Two Boys
For this LO, I decided to use staggered blocks for the alphas which make the title. Can you see the shine n the black and green strips? It looks so rich. There is even a hint of a sparkle showing in the turquoise strip next to the black. These PPs are on a white CS background. You have to look at the mouths on my two boys. They both look like a turtle! LOL The square buttons in the kit prompted me to make the title in squares. It was a nice repetition.
The last creation is a card I thought would be fun to make. It's simple, but looks so rich with that PP!
Cheers Card
I hope you are having a wonderful weekend. They always seem to fly by!
Thank you for stopping by. I hope you will come back again! I so enjoy having sweet visitors such as yourself!
Have a good one,
Chris