Well, Fall is here! Thank goodness! I am so ready for the next two seasons! It was time for Summer to be tucked away for a few months! The trees at the higher elevations just a little northeast of us are already changing! Autumn is already showing her colors!
I've been scrapping a bit and have some layouts to share. Hopefully, one will be a source of inspiration to you! Oh, before I forget, I'll be posting a couple of layouts this week that could be yours! I'm keeping the pricing low. I apologize for the postage fee, but that is what the post office charges, nothing more. I realized when I sent the last two that it was a bit more than I had thought. So, the postage will be $6.00.
The first LO is one I did for a friend. This was her daughter's first day of school. I wanted to keep a school theme, but keep it very primary looking. I kept the stitching on the stick figures very rustic looking rather than refined and adultlike. I also wanted to incorporate the colors found in the photo. Some of the alphas are black glittery and the others are black and white polka dot puffy alphas. The embellies are metal. The Scottie is elevated on pop dots to give some dimension. Is this little missy adorable or what? Look at that face! I hope her mama doesn't mind the messy stitching on the back or front! LOL I just fell in love with this photo. Oh, how I wish we had had more children (or at least a girl, too)!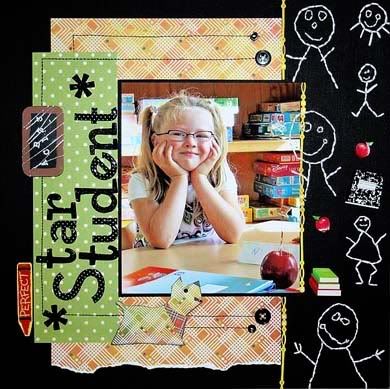 Star Student
Oh, how I love the next LO. It's of my DH's mom when she was a baby. Look at that wicker buggy! I would LOVE, LOVE, LOVE to have had that! I wanted to make the LO feminine and vintage looking. I chose pink as I never get to use that color very much in our family LOs. I love the paper roses at the bottom and think the BG was a perfect line to use with this photo.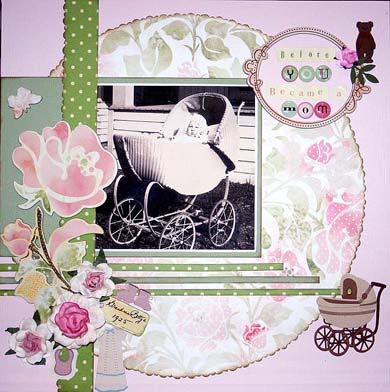 Before You Were My Mom
My Darling Son, if you are reading this, the layout below is for you. The layout is simple, but the sentiment is perfect for you and your loving father. I don't know who the author is, but I am grateful that whomever penned it, knew just what to say for me! Your dad and I miss you so much. Scrapping photos of you brings you closer. I can touch your face! I wanted to keep the LO simple and masculine looking. I hoped that the gray fabric flower would be fine, and I think it it. The LO looks manly, right?
A Father Is...
I LOVE our DIL! There are so many reasons! I am proud of the woman she has become. I am proud of her for reaching her goals and not letting anything stop her. I am proud of the wife she is to our son. I love to scrap photos of the two of them. They are just too cute together! She has so many different looks. I love the ones in which she is candid and unposed, like this one. Look at that smile! It's spontaneous!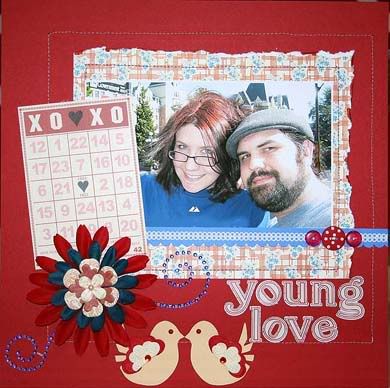 Young Love
Thank you for stopping by! Please do come back again! I'll have a couple of layouts available for sale toward the end of this week. Maybe you will like them and want them to be yours!
Have a good one,
XO
Chris