Happy September 1 everyone! Oh, Fall is right around the corner and these 100+ temperatures will be history! It can't happen too soon!
We have very smokey skies lately. There is a very large fire not too far from us that has blown smoke into our valley. Then, there are the California fires that are also sending smoke eastward. DH and I are staying inside where the air is cleaner. The sky is so white, it looks cloudy outside. Ick!
Today's post will be a brief one. I've got three layouts to share. One is for our album and the other two could be in YOUR album! That's right, I have two for sale, if you are interested! I think this is a bit exciting. If it doesn't work, no problem. If it does work, then it's a win/win, right? You get a LO and I make a bit of money to buy more scrappy supplies! LOL I used to sell on ebay. I sold every layout I ever made except for one. No one wanted a LO on Dia de los Muertos. LOL It was a bad idea on my part! LOL
The first LO is of DS. We were at Zion National Park. Behind him is a huge waterfall cascading and spraying. The photo looks a bit grainy. I'm not sure if it is due to the water spray or my increasing the size of the shot. DS just loved that hat! He wore it all the time and even to bed! It made me think of Lawrence of Arabia! DS was just the cutest little one!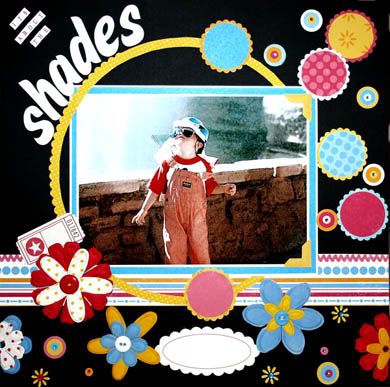 It's All About the Shades
Now, here is your version of the same layout. For this LO, I modified the title. I left the 5 x 7 mat empty so that you could use one large photo or several small photos. I'll include two yellow photo corners as well. The shipping and handling would be around $5.00. I will ship internationally, but shipping would be more. The Prima flowers are red, blue, and yellow. The yellow is a true yellow but looks orange in the photo. There are small rhinestones on the smallest circles and flowers. The larger buttons have been stitched on. Your photo would also fit behind the red flower in the lower left. Each of the circles has been cut using my Nestabilities dies thus making the cuts accurate and even. Each circle has been layered and is not printed that way. TFL!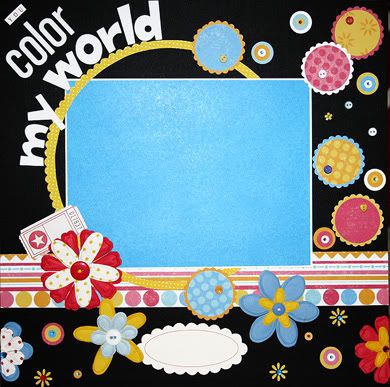 You Color My World SOLD
The next layout is for those of you who had backyard campouts or actually got away to do some summertime camping. For this LO, I hand cut the leaves and pine cones in the upper left. They are also elevated using dimensionals. I love giving elevation to my layouts. A cloud at the upper center is also elevated above the base cloud to also give dimension. I created the trees and inked the edges to keep with that woodsy feel. There is machine stitching around the perimeter of the mat as well as on the background CS. Lastly, there are brads on the journaling tag and the title. TFL!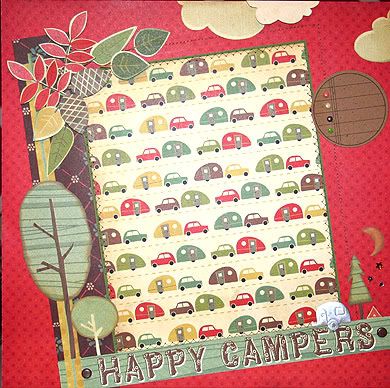 Happy Campers SOLD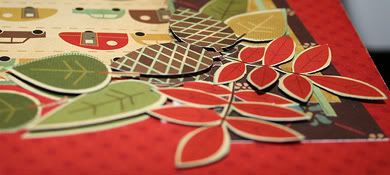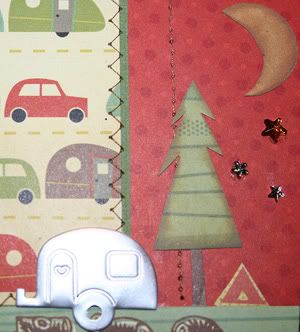 If you are interested in either or both of these layouts, please e-mail me. You can be an enabler! I just love scrapping, and if I can save you some time and effort, why not? Right?
Thanks so much for stopping by. I'm so glad that you did!
XO,
Chris