Dear Readers,
I don't even know if there are any readers out there, but if you are reading this, thank you!
IF YOU ARE LOOKING FOR MY MONTHLY VISITING TEACHING LESSON IDEA, PLEASE GO TO VISITING TEACHING SISTAS. All of my monthly ideas may be found on that blog now.
The link is
HERE
.
I've been so very blue lately. I'm missing DS so much that it hurts! I don't think I could make the drive due to some physical limitations. I know I cannot fly. So he's 1100 miles away and I feel like crud - racked with guilt because I am unable to be close. I've missed his birthday. I miss him. I miss his voice, his humor, his bear hugs. I miss being a mom who is there. For all of the previous reasons, I am filled with guilt and such a feeling of sadness. I've just been so teary eyed for about the past month. I never thought that being a mom would ALWAYS be this emotional! I worry so about him.
I've been scrapbooking and card making in an attempt to keep my mind busy. I've read tons and cooked/baked tons of new recipes. This week, I made a grape cake using fresh grapes. It was surprisingly very good, sweet but good. I also made a talapia oreganata which was delicious, too! My most favorite cooking endeavor this week was a huge pot of cioppino. I had all sorts of shellfish/fish in it. It made for many great lunches and two dinners as well. I also baked a batch of popovers for DH again this week. He really enjoys warm popovers with jam or honey. I'm seeing a pattern here - sad? Then hit the kitchen! That can't be a good thing, right?
Here are a couple of LOs I did.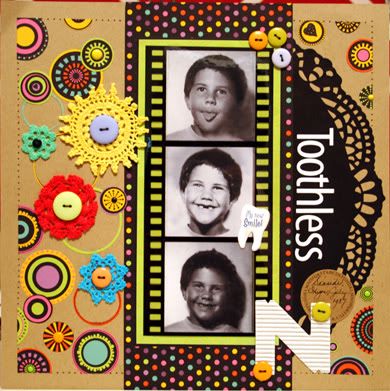 Toothless
DS was about six when these shots were taken while vacationing in Oregon. He was so tan! I made the filmstrip and then printed the filmstrip image on a transparency so that it would look realistic with the photos behind it. The inner perimeter of dots may look crooked, but it isn't. It's just the way I had the camera. I loved using the Kraft card stock.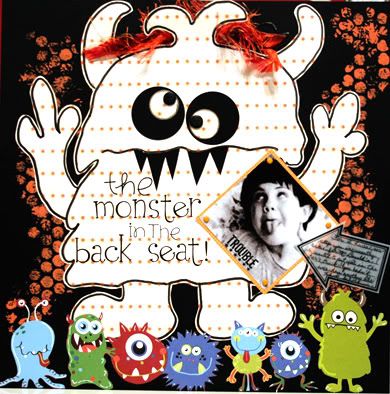 Back Seat Monster
There is quite a long story with this layout. I have it all written down and tucked behind the monster. The orange fibers are on the end of the journaling tag and are positioned to look a little like the monster's hair. I thought the monsters were so cute that I took one of them and made it large for the layout's focal point. It's cute, huh? Suffice it to say that DS spent two hours, NONSTOP, saying things like, "I want McDonald's. Why won't you buy me McDonald's? I want french fries. I want a Happy Meal. I want a cheeseburger. Why won't you take me to a McDonald's..." We were on a road trip and had no idea where we were. DS kept this up to the point that DH and I thought about putting DS in the trunk (not really), but we did consider it as a possible solution. DS wasn't yelling or anything. He just talked incessantly saying things like what I wrote for two hours straight. I was driving. Suddenly, as if the heavens felt our pain, there, in the middle of the road, was a McDonald's bag and french fries all over the roadway. Now, we were in a very rural area (lost) and had no idea how they got there (a miracle maybe?). I quietly pointed them out to DH and wondered if I should pull over and pick them up or just get personal satisfaction by running over the whole thing. I chose the latter and told DS to look about the back window at what I had just smooshed in the road! Revenge is best served up cold, right? LOL Then, all of the sudden, the road opened from a two lane to a 3 or 4 lane highway. Still lost, I continued to drive north. Lo and behold, all of a sudden, a McDonald's appeared! We had managed to find ourselves in Carson City, NV! Yes, DS did get his McDonald's. We had been traveling up through the Sierras and somehow wound up in Carson City on our way to Auburn, California. Who knows how I got us there from California's Hwy. 395 and the Sonora Pass!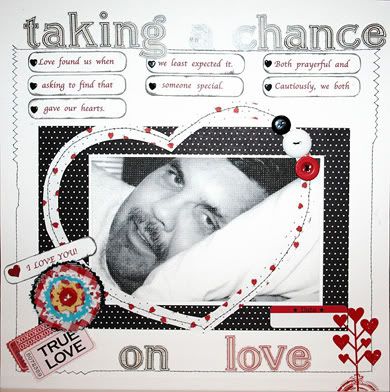 Taking a Chance on Love
This is a LO of DH. Sorry about the glare off the title alphas. I printed DH's photo on aida cloth to give it texture. That's why it has all those little dots. In case you don't know, aida cloth is the fabric on which cross stitching is done. I think red, white, and black is one of my favorite color combos. I love this man! The little hearts on the oval tags are black heart shaped brads.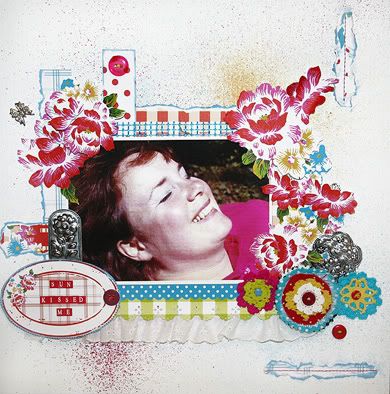 Sunkissed Me
This is just a fun LO for my Book of Me. I spritzed the white CS with Smooch in red, yellow, and blue. I cut the flowers and added pop dots of differing heights underneath so that some are higher than others. Because I love textures, I added several kinds of textures to the LO as well. The crocheted pieces that look green are really yellow. For some reason, my camera just hates yellow and makes it look an ugly green.
Thank you for stopping by. I appreciate your visiting.
XO,
Chris