Last night was heavenly. We had wonderful thunder, rain, and the not-so-much very likable lightning! When it thunders here, it just rolls and echoes forever off the walls of the canyons in this area. The rain was so needed and, even though we didn't get tons and tons, it was enough to rehydrate the trees, shrubs, and flowers.
I only have a card to share today. It took me a while to do it, but I'm happy with it.
The photo colors are a little off on the rose and the bow. I don't know why the camera didn't get it, but they have more blue and really are close in color to the paper. The card has a pale grey Bazzill foundation. Then came the eggplant cardstock and paper. I colored Tilda, her frog, and the window with my copic markers. I also added just a tad of Stickles to Tilda and the crown of the frog.
Here is a LO I did to journal the time our DS ate a bottle of Children's Tylenol in an attempt to make himself well. He figured that two Tylenols weren't working, so 22 would work better. DH was so tired the night before, that when he put the medication back, he inadvertently din't place it in the locked cabinet. DS had been ill for so many months and, at age 3, was down to 24 lbs. We were always at the doctor's and had tons and tons of tests done. It turned to be an inner ear infection that had gone undetected! After I discovered what he had done, we spent the night in the Emergency Room. Poor baby! He looks so ill in the photo.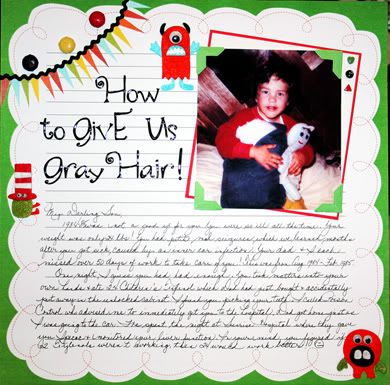 How to Give Us Gray Hair
Thanks for stopping by my sweet friends. Your visits mean the world to me! I'll have more to share in the next few days as I have other cards in various stages of completion!
XO,
Chris