I hope everyone had a wonderful Thanksgiving! We were lucky enough to have our DS and DDIL here for a visit that was sooooo appreciated. Bless their hearts, they drove for two days to get home. They did get back home safely and my prayers were answered!
Congratulations to Susan! There were only three comments posted, so the odds were good, LOL. Susan will be enjoying some new Basic Grey Ambrosia. Please PM your address so I can get this out to you, Susan. Calia and Kerry, thank you, also, for taking the time to comment. It was a bit disappointing that I only had three respondents, but I know it's a busy time of the year.
I recently did this LO with the crisp, clean reds and greens of the Christmas season. I LOVED the CS because of its leather-like texture. I bought it a couple of years ago and saved it for just the right layout. I thought this was it! The red and green solids are suede so there is yet another element of texture. The stitching and glittered highlights add a third. Here it is: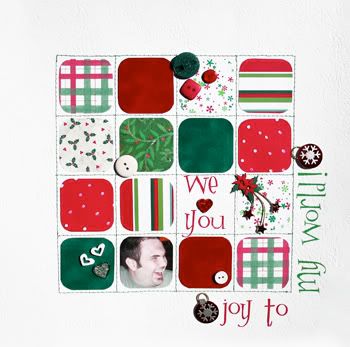 Joy to My World!
Thank you for stopping by!
XO,
Chris