"Oh the weather outside is frightful"
"And the fire is so delightful"
"And since we've no place to go"
"LET IT SNOW, LET IT SNOW, LET IT SNOW"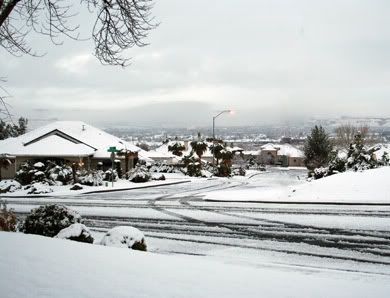 The Snow Fairy Came!
No, this isn't a black and white photo! This is how it looks outside this morning!
I am sooooooooo excited! The snow if just falling thickly. We have a fire in the family room fireplace and the blinds are open so we can watch the snow fall outside. The landscape is white, and our Christmas lights are twinkling. Sadly, our lighted, moving reindeer have shorted out, HA, HA! They are dark and still! LOL. They couldn't take the snow! I feel like I'm a kid again. I loved winters in Pennsylvania. This is a wonderful treat!
My first experience of snow in the Mojave desert was in 1974. Las Vegas had nine inches! At that time, there was only one snow plow in Clark County, NV, and it was at Mt. Charleston. Since then, the county purchased a second one! LOL You have to understand that Clark County, Nevada (where Las Vegas is) covers 8,091 square miles! It's very large! The streets were a mess!
Driving to school that morning was "interesting." I had a Mercury Cougar XR7 with a huge engine. The back of the car had no weight. I remembered that my dad told me to always make sure the back end was weighted down. So, before leaving for school, I packed a 20 lb. bag of kitty litter in the trunk and filled the trunk with cinder blocks, my encyclopedia books, and a bunch of textbooks, LOL. I did make it to school without an issue! LOL I definitely had enough weight in the trunk!
We had three inches in 1979. DH and I had just moved into our home and one of the access roads to our area was a steep hill that was still dirt. DH and I decided to go skiing! We carried our skis and spent the evening skiing down the hill and walking back up. We had a blast! It was so much fun. We skied until about 10:30 that night. School was cancelled the next day, so we were able to play late!
In 2003, Las Vegas had another significant snow. DS was so excited, he came and woke us up about 2 AM. DH told us to get dressed. We piled into the Navigator and went to a park where we took some photos. Then, we drove around taking more photos of The Strip and other areas until 6 AM. The neat thing was that we weren't the only people at the park or just out and about. Lots of people were in the park at 3:00 AM playing like we were! People were on The Strip taking photos of the snowy hotels.
Today, Las Vegas is, once again, being whomped with snow as are we just north of Vegas, It started about 4 PM and hasn't stopped. There's about 3 inches on our lawn so far.
I AM SOOOOOO EXCITED!!!
There is nothing I love more than winter snow. It just makes things so beautiful! It just makes it feel more like Christmas, too!
OK, I've bored you enough. I'll post some photos in a bit. I have to download them from my camera. I hope it snows all night! I can't wait to look out the window tomorrow morning to see just how much we've gotten.
Here is a photo of our home taken at night:
This is so much fun!
XO,
Chris