We have a winner!
Congratulations to Jamie who won the new punch!
Please let me know your address. Thank you, everyone, for jumping in and playing along. I had fun waiting to see who would join in. The winner was randomly chosen.
I have some new things to share. I've been working on this LO for a little bit The photo is of my mom when she was about 10. She is with her aunt, my great grand aunt, in the photo. The paper is from the new Basic Grey Porcelain line. I loved the colors. Some of the cut work has been elevated on pop dots. I wanted the flowers and leaves to have some dimension. Also, I added some absolutely gorgeous paper roses. There are tiny pink ones and then the much larger pink and cream ones. They look so lifelike IRL. I cut the title using the Snow Angel font on pale pink Bazzill. There are also two doilies. One is beneath the larger roses and the other borders the left side of the photo. I treated them with Archival Mist to preserve them.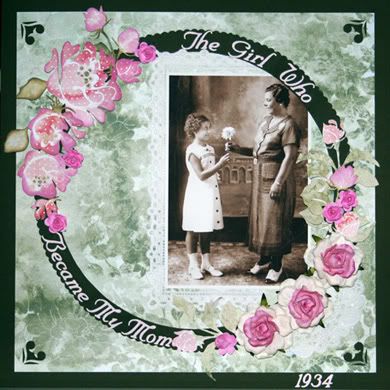 The Girl Who Became My Mom
This layout is of DS. I absolutely love red and yellow together! I used my scalloped scissors to cut segments of the circles and strips. The ladybug is one of Basic Grey's chipboard pieces maybe from Urban Prairie. It's hard to see, but I pleated the yellow paper strips along the lower right corner before stitching them.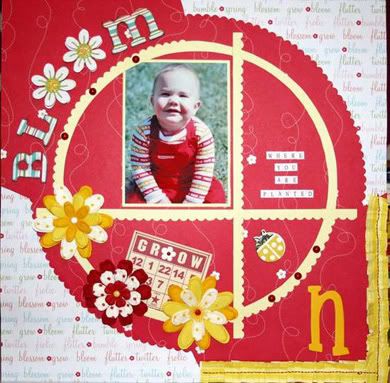 Bloom Where Your Feet are Planted
OK, so DS wasn't always angelic! Look at that face! Does it scream "Trouble" or what? Look at the body language! He was about three in this photo. LOL Son, if you're reading this, we loved you even when you were a pill!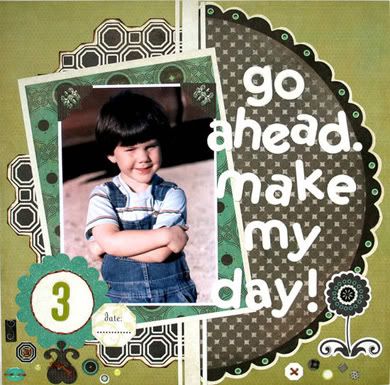 Go Ahead Make My Day
The next layout features a photo that was taken in March. The blooms are from a fruitless cherry tree. Our valley has lots of these trees - almost everyone has one in their yard. For that short time, the colors are perfect! In the background is the St. George Temple of the Church of Jesus Christ of Latter Day Saints. I chose to use a Bazzill CS background that is embossed with tiny butterflies and has a shiny satin-like finish. I'm thinking that the embellishments and paper is from Basic Grey's Urban Prairie.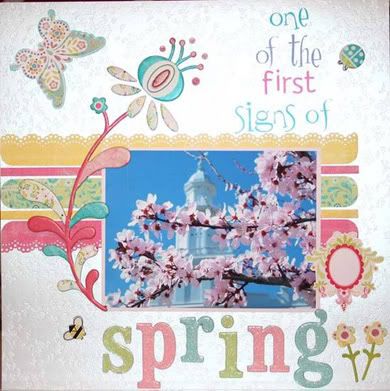 Signs of Spring
Lastly, I have some cards to share. I hope you like them!
I needed to make a sympathy card for someone at church. I had this gorgeous paper and thought it would make a pretty card.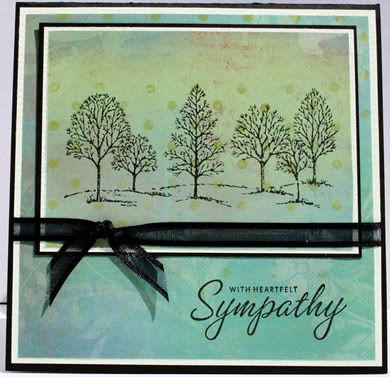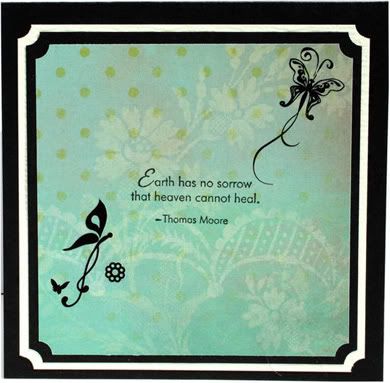 The paper on this card is some old Wild Asparagus. I just LOVE it! I guess that's why I had 10 sheets of it! LOL I made the flowers to match and used my Cricut for the sentiment.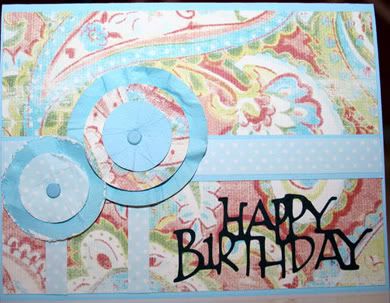 I'll have more to upload later this week. I hope you will come back and take a peek!
Thank you so very much for stopping by! I so love it when you do.
XO,
Chris