Yesterday, while sitting at my scrap table, a beautiful green bird of moderate size kept flitting around the potted plants on our patio. It's wings fluttered like a hummingbird's, but the bird was much larger than the usual hummers that we see passing through in their migration. The bird landed on the table and stood there as I watched. It flew around the yard and returned to the table. I kept thinking that it flew like a hummingbird. Well, lo and behold, this little one (whose beak wasn't as long as a little hummer's beak, but very pointy and somewhat long) started hovering over a plant with its wings flapping incessantly! It WAS a hummingbird of a species I've not seen before. I estimated he was about 4 inches tall and, as I said, green! The bird just went to different areas of the plant and nuzzled in the leaves. I couldn't see if there were flowers as the shadow kept me from seeing that detail. This morning, he was back again. I suggest he keep himself high. We have lots of cats that just love our back yard. Our poor baby doesn't go outside. Our neighbors love letting theirs loose. I've counted no less than five different ones always walking through or resting under a bush. It was just cool to see this new bird!
I haven't done any layouts because my knee won't let me sit for any length of time. I have, however, made a couple of cards that look soooooo much better IRL. I didn't want to use the flash because it washes out the colors and the glitter reflects the light and causes a glare. So, forgive my very poor shots. If anyone has a good idea how to take a good photo in good light of some sort, do tell!
For both photos below, I've used my Copic Markers for the coloration. I've added some rhinestones to the Butterfly Tilda card and Stickles to both wings (on the dots) to add some sparkle. Here they are: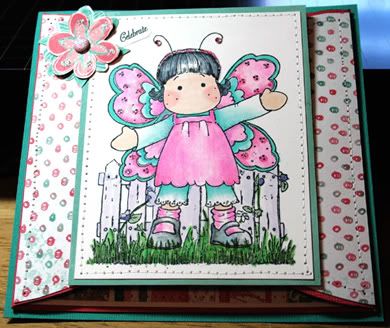 Butterfly Tilda
For the Butterfly Tilda card, I added pink Stickles to the dots on her wings. Both wings ARE the same color, LOL. The light was to the left so the left side is lighter. The colors are so pretty IRL.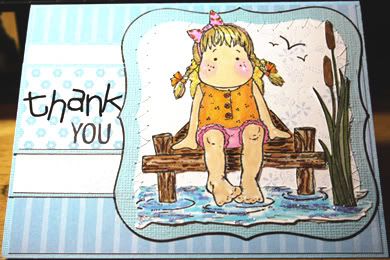 Tilda on Dock
I used very pretty soft blue SU paper for this LO along with matching Bazzill. I colored the image with my Copic Markers and added blue Stickles to the water. The Tilda and dock are one unit while the cat tails are separate. I'm NOT that advanced, yet! I wish I had some brown Flower Soft for the tips of the cat tails to add some texture, but I don't. The texture would have looked really well.
Thank you for all the sweet comments about the passing of K2. I do miss him very much and thought I heard him last night. I guess that is to be expected. It's getting easier as each day goes by.
I am just so happy that you have stopped by. Thank you for taking the time to stop and visit. I so appreciate that you have. Have a good one - until next time...
XO,
Chris