Don't you just hate it when there is an issue between you and an on line company that ignores your efforts to address the problem? I feel so disempowered! Case in point - On November 13, I ordered Tilda stamps from Magnolia in Sweden. I had been ordering directly from them because they have a greater inventory. I never got the stamps. I wrote. I wrote in English. I wrote in Swedish. I wrote in English and Swedish! Nothing - not a peep! Today, I finally resorted to calling VISA and filing a dispute regarding the nonreceipt of the stamps. I hate doing that! Magnolia sends the stamps in flimsy 4 x 6 plastic bags which would be easy to lose, get stuck, or get torn. I guess I won't be getting any more from them now. The thing I keep telling myself is that in the grand scope of things, these stamps don't mean squat! There are people in Haiti that have real, life-threatening issues. My lost stamps are nothing compared to the losses felt in Haiti! So, despite being ignored (the real thing that bothers me), I am grateful for all of my blessings.
I wish I could do more to help those in Haiti. I feel so helpless. There is nothing left in the zone that was hit the hardest. I hope my prayers are helping in some way, too.
I have some goodies to share with you. I can only work for a little bit at a time. My knees swell and the pain gets really bad.
First of all, there is some blog candy being offered at
ABC Toys and Crafts
. I love punches and there are three sets up for grabs. The set I chose is called
Scallop Three Dot
. A girl can never have enough pretty punches, right?
Maybe I'll get lucky and win a set!
The first thing I want to share is the album I made for two friends. I had shown you the cover in the Visiting Teaching post below, Here are the interior pages.

]

I made sure that every other page had some white Doodlebug sugar coated cardstock so that the page would sparkle. The little cards with the related VT messages are removable so that the album can be used to showcase photographs. I used lots of MS punches to make it look more interesting. I wish I could make the photos larger, but 390 is the max for width. Sorry.
Now, for some cards. Sympathy cards are so hard to make. You don't want them too fancy. You don't want them too colorful. There is such a fine line. I had the need to make two such cards. I wanted them to be completely different in appearance. Here is what I did: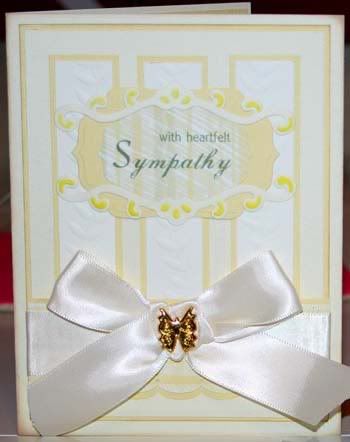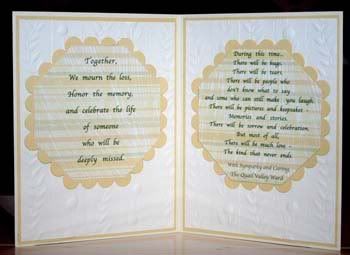 It's hard to see, but on the center panels on the front, as well as the interior background PP, I chose a cream colored dry embossed paper by K & Co. It has vines and flowers. I thought they were peaceful looking. The yellow barely shows. Somehow, Photoshop just loves yellow and makes it look dark and garish. The card is very pastel. Even the PP is so pastel that you can barely see the stripe. However, in the photos above, the paper is really obvious. Weird how that happens.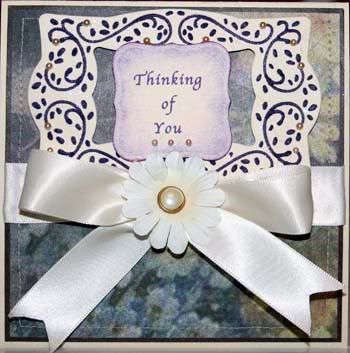 This card gave me F-I-T-S!!! It is my version of one done by Becca. Her's looks like mine should look, LOL! Becca, if you read this, I wish I had your skill! I did the center frame no less than nine times! I tried Copics, EK Success, pastels, Le Plume markers, paint, and pencils to color the leaves and swirls. They looked horrible (they still look nasty)! Finally, I flipped the template, colored it w/ the EK Success markers. THEN, I flipped it back and ran it through the Cuttlebug to cut and dry emboss it. It worked so much better. I still wasn't happy, so I chose to add some teeny tiny pearls and then rub microfine crystal glitter over that nasty bugger of a frame - just a smidge - to add the tiniest bit of sparkle that worked when the light caught it just right. It looked better. I don't like the card, though. I think I just got so worked up over that frame that nothing about the card seems appealing to me, LOL. I punched the sentiment border/corners and that turned out well, LOL. I love that punch set sooooooo much. It looks so delicate.
Thank you for stopping by. It is so nice to know that you keep returning to see what's what. I love you guys!
XO,
Chris