Hello from a grey St. George! We've had several grey days in a row. Some even came with rain! Woo hoo! I love what I call, "Oregon Days." We surely could use the water! I love El Nino years, but I know others that wish it would go elsewhere! It's especially hard in southern California where there are burn scars. The water can cause the barren hillsides to slide.
There is a Blog Hop at Magnolia-licious. You should see what the DT created using Tilda stamps! They did amazing work! Listen up, girls, there is also some pink blog candy available. In order to qualify, you must create something pink using at least one Tilda stamp. Below is the card I created. I thought I'd give it to my DH for Valentine's Day! I'm sure it isn't as good as others, but it's mine! I did the best I could!
For this card, I used Bazzill CS, Doodlebug PP, Making Memories PP, Nestibilities, Copics, teeny tiny pearls around the circle, punches, glittered CS (which almost feels like vinyl), ribbon, and a hand quilled rose. Since it is for my DH, I didn't want to make to too girly.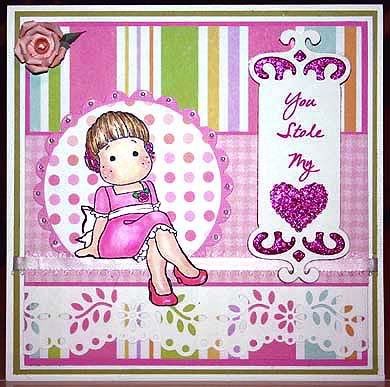 I'm keeping my fingers crossed that I might get lucky! Pink is good, right?
Thanks for stopping by! Leave a comment if you have time!
XO,
Chris