For those of you who are in the cold, please stay warm! Oh, how I wish it were a bit colder here. For those of you who look out your windows and see a blanket of white, please send some to me! I love, love, love, the snow (but probably wouldn't if I lived in it)!
Did you ever do something and no matter where you were along the path to completion, you kept hitting walls? I sure did on this project! My goodness, if it could go wrong, it did! But, I was self-reliant (and quite determined) and persisted until it was just the way I wanted it and completed. I think there was a lesson in there for me regarding being self-reliant, LOL! I typed the text in blue. Every time I saved it to a .jpg, it turned green! Then the font decided to be fuzzy and blurry. I bet I spent no less than eight hours trying to get the image, from the graphic to the text the way it was in my mind! It was so frustrating because I didn't know what was changing the font color. I ran out of white cardstock for printing. DH was kind - actually, he took pity on me - and went to the store and got more CS. It wasn't white. DH got close and that was all that mattered.
Here is the accordion album I made for my gals. I made it so that they could use it as a photo album if they wish. I used some glittery white cardstock as well as white cardstock. I also used Nesties, punches, buttons, and whatever else I thought would go well. I chose the title, "Believe," because we should believe in our abilities. Sometimes that is so hard! At least it is for me. Also, each gal will receive a little hourglass. I found these on eBay. Hopefully, the gals will like these two tangibles.
If you would like to use anything, feel free to do so. If you would like me to send a photo of something, just ask! I can send you a .jpg of whatever you may like to see closer.
I decided to use a timer as my example to help support the theme of self-reliance. All of our life choices are contained within the hourglass. How we approach those choices will either allow the sand to flow freely or clog the neck, not allowing any of the sand to pass through. It's up to us.
The next photo is of the three inside pages of the album. There are two cards and a photo mat showing. The pages on the left and the right both have glittery white cardstock to add some sparkle. The center photo mat has an center that has been dry embossed with a snowflake pattern.

In the photo below, are the three outside pages of the album. The cards are removable and a photo can slip under the two bands on the left page and under the flap on the center page.

Below are the cards that carry the messages for this month. Yes, the print is blue - finally!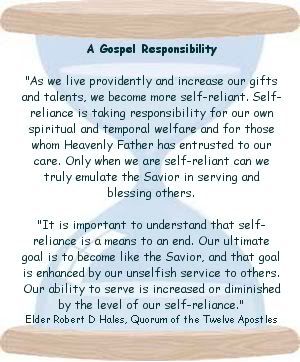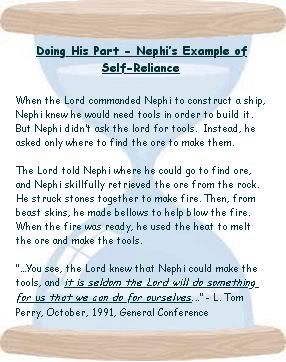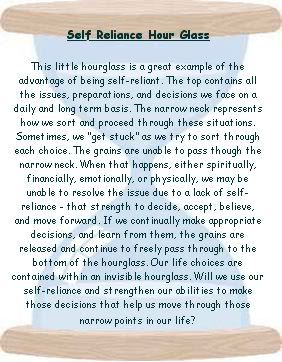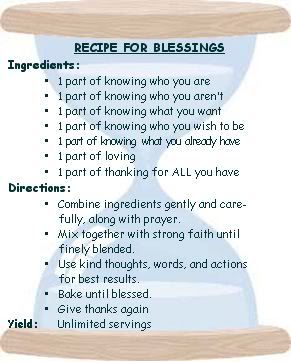 I hope there is something contained within this post that you may find helpful as you do this month's Visiting Teaching.
Have a wonderful weekend! Leave a comment if you wish! They are like a lovely piece of rich, dark chocolate that melts on your tongue! Your comments are welcomed and appreciated treats!
XO,
Chris