As I looked out the window of my scrap room today, I noticed all the insects happily flying around our back yard. I have a table in front of the window in that room. On that table are potted flowers. DH loves to keep flowers outside the window for me to see. I watched a bee going from flower to flower gathering nectar. The pansies are in full bloom. I so love pansies. They are my very favorite flower. They just have the cutest little faces!
I have been under the weather for almost a month now. I finally broke down and dragged myself to the doctor. So, now, I'm hoping the antibiotics kick in and eliminate whatever is living inside my chest and other parts of my body! The cough medicine w/ codeine isn't stopping the cough! Can you believe that?
I have a couple of things to share today.
First, here is an ATC card I made for a challenge. We had to do one about ourselves. I think my watching the flowers outside my window had an influence on where I went with mine, LOL. I kept the colors crisp and clean by using the black and white. I added a touch of pewter in the medallion, butterfly, and photo corner. Lastly, I used some silver mesh to give more sparkle.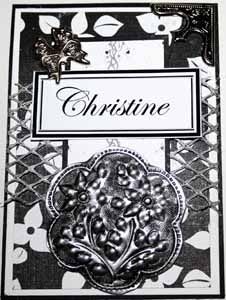 Next, I've done a LO of DH with a St. Patrick's Day theme. I used shades of green found in the PP for the accents - the background CS, the punched border, the outlines. I've added gold accents in the coins, photo corner, and the upper portion of the word "Lucky." For that, I used gold glittered CS. I also used a doily circle as the back of a flower.
Tis Lucky I am - I have You!
The next LO is of DS and DDIL on a recent trip to Vancouver, BC. I wanted to keep the nature aspect found in the photo by drawing it into the LO. I accomplished this by using some related embellishments. I did cut the background shape using a pair of my decorative scissors. I also did some inking and stitching. The flower layers are separated w/ the use of dimensionals.The neat thing about the embellishments is that they are "frosted" and sparkle a bit.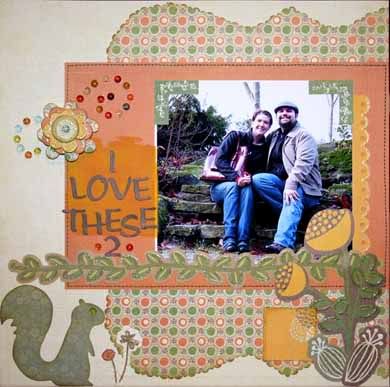 I Love These 2
The final LO was done for a challenge. I chose to create an array separated by machine stitching. I chose navy, lime green, white, and shades of brown/tan. The rub ons are also navy. I pulled buttons that also carried the same colors. I also inked the edges of the PPs in navy ink.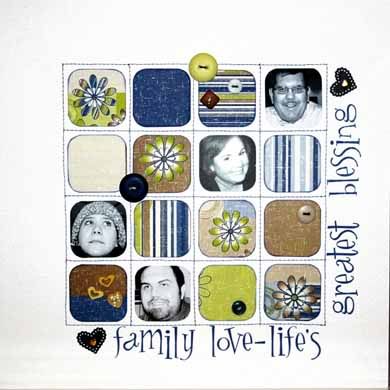 Family Love
Thanks for stopping by! Leave a little love if you'd like. It's always nice to read your comments.
I hope you are well. Come back again!
XO,
Chris