Well, things have been busy this week! I made a huge pot of applesauce and shared it w/ friends, baked three more loaves of pumpkin chocolate chip bread, made two layouts, took the laptop in, got flu shot, went out to dinner, did some shopping, and played Canasta! I had to pull out my slacks and actually wore a sweatshirt today because I was chilly! YES!!! Come on cooler temperatures!
On Monday, DH and I ran a ton of errands. Some are mentioned above. In the evening, we went to the pumpkin patch so I could get some great photos. Below is a LO I did with one of the 30 photos I took, LOL! People driving by must have thought we were crazy. Usually, there are children all over with scrapping moms shooting photos - not two grown adults! We had fun! Here's the LO: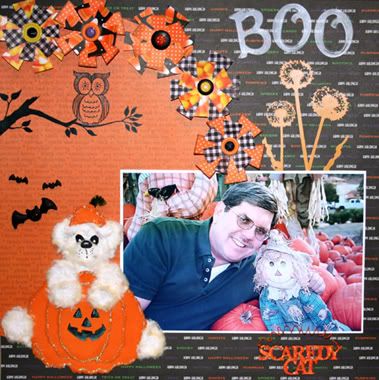 What do you think? I spent most of today working on the bear holding the pumpkin. DH loves how the bear looks. DH is such a cheerleader for me! I have to keep pinching myself! I have to use up some of the old PPs I have. These are from who knows when. I tried to give them a new look by using the Hambly rub ons.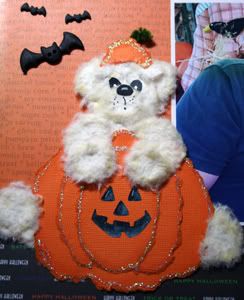 Now, for your lesson - a "no brainer" for sure. See the word "BOO" at the top of the page? Looks like Heidi Swapp ghost alphas, huh? Wellllllllllllllllll, those alphas are NOT ghost alphas!!!

Reduce, Reuse, Recycle!!
Materials needed:
A plastic milk jug (rinsed clean)
A letter press like a Sizzix
Alphabet dies like Sizzix
Directions:
1. Cut your jug. You'll be needing the flat parts.
2. Select your alpha die.
3. Place alpha die on plastic segment, insert, press, and removet!
There you go!
YOU'VE JUST GONE GREEN!
You took something that you would ordinarily throw out and use it in scrapbooking!!!
**Since I shared this, if you share it, would you please give me credit? I thought it up all by myself and am just tickled!** If the idea is out there already, I didn't know about it, LOL!!

Thanks for stopping by. I hope you like the idea I've just shared with you!