I keep making layouts using older papers only to find that my supply isn't really going down! What's with that? Are the papers multiplying by themselves? I'm even tossing scraps that I KNOW would be useful for a card or six! I don't get it. Does anyone else have more than a lifetime's worth of paper?
I'm heading off to bed. The sun isn't even down yet. I'm just in a frumpy mood. I'm cold. I'm dressed in winter clothes, there's a fire in the fireplace, I'm under a blanket. I think I'll go into the bedroom, turn on the fireplace in there, get my book and get cozy with my blankets, LOL!
My sweetheart took about 40 photos of me today so I might have some current ones. Not one turned out well. It might be my mood. My eyes look horrible. Both have ruptured blood vessels - something that is happening with more frequency. The doctor says it's from all the drops I have to use every day. My husband just thinks sticking the camera in my face and using the flash will make a good photo, I guess. He tried. I don't think he has much to work with when he is trying to make a miracle happen when taking my photo! LOL
Here is a photo that he took that DID turn out! What you cannot see on the photo of the layout is that along the crest of the mountains, there are "flames" of yellow just over the black and under the red. It looks like the mountain tops are ablaze. The red part of the sunset is my very favorite part. A sunset goes through so many stages. The red is the one that I find breathtaking. I can feel His presence in each one. Here is my latest: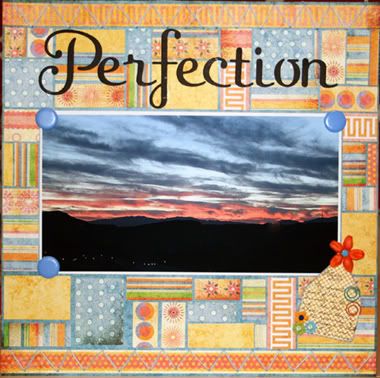 Thanks for stopping by! Have a good one!