It is just gorgeous outside! The sun is shining and the air is cool - a wonderful 78°. My sweet husband is planting bushes in the yard so that we'll have flowers all year long. He loves a pretty yard and does such a wonderful job of landscaping our properties.
I worked on a Fall LO today to share with you. The background CS looks darker than it really is. Picture a pale cantaloupe shade while the darker CS looks more like the color of pumpkin pie. It's not a fancy LO, but I liked the lines. I wanted to get away from the circles. I need to add a punched photo corner in the darker tone to place on the lighter CS (just for interest). I used fall photos but pictured a series of children's photos with a larger one in the middle. While I only used three photos, four or five small ones would also work well - especially with vertical closeups. My photos were wider than tall. It is also the type of LO that lends itself to a variety of PPs and colors of CS. Here it is: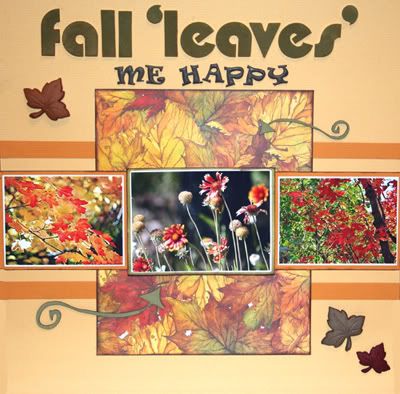 If you would like to make one, you will need:
2 sheets of complimentary colored cardstock. I used two colors of Bazzill - a pumpkin shade & a pale shade w/yellow tones.
1 sheet of PP
Ink
pop dots
embellishments of your choice
adhesive
alphas of your choice
Procedure:
1. Cut 2 strips of the darker CS - 1/2" x 12"
2. Cut 1 strip of the darker CS - 3" x 12"
3. Cut your PP choice - 8" x 6 1/2"
4. Cut a mat for your center photo. Mine is green and measures 3 1/4" x 4 1/2." Choose a contrasting color.
5. Measuring along the bottom edge of the strip to the bottom edge of the CS, glue your first narrow strip 3" from bottom.
6. Again, measuring bottom edges, glue your second narrow strip 7 1/4" from the bottom.
7. Ink the edges of your piece of PP. Glue this approximately 1 1/4" from bottom (centered) and above the two narrow strips.
8. Lightly ink the long sides of your wide strip. Using the bottom edges of PP & CS, glue the strip 3 7/8" (just under 4") from bottom or just center it.
9. Glue your two smaller photos into place on the wide strip - left and right side. The wide strip will act like a border mat.
10. Glue your largest photo to the CS mat. (Step 4)Ink the mat edges. Place pop dots to the back center & corners of the mat.
11. Glue center photo into place.
12. Add your title. I used Thickers alphas for mine. Embellish to your liking using buttons, ribbon, brads, chipboard, etc.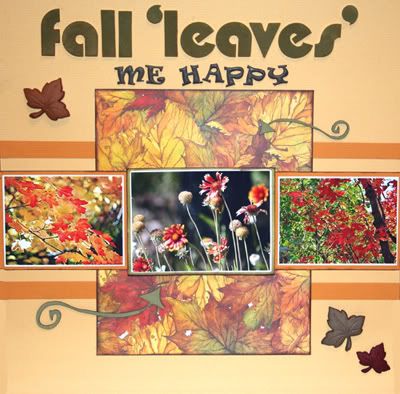 Tip of the Day - When using rub ons, why fight the sticky backing and edges when trying to return the sheet to its cellophane package? Just cut the rub on right out of the package while cutting through the package, too! No more fighting!

I hope today's little lesson may be a starting point for someone. Please let me know you stopped by! I love hearing from you!
Have a good one!