Good Tuesday morning!
Yesterday turned out to be a much busier day than we had planned. I worked on the layout below yesterday afternoon and last night. I hope you like the results.
For today's lesson, you will need:
1 12 x 12 pc. cardstock
1 5 x 10 pc. patterned paper (PP)
1 2 1/2 x 8 1/2 patterned paper
1 6 x 8 patterned paper
1 3 x 5 1/2 patterned paper
1 2 x 4 1/2 patterned paper
rub ons or stamps
feathers
ribbon
ribbon slide
adhesive
buttons
alphas (I used Thickers)
ink
Procedure:
1. Ink the edges of your pieces of PP.
2. Take your piece of PP that is 5 x 10 and, at a slight slant, glue to the CS as shown below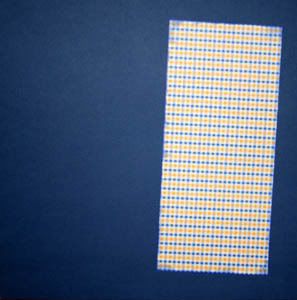 3. Next, take your contrasting sheet of PP that is 2 1/2 x 8 1/2 and glue it, again on a slant, above the previously glued PP.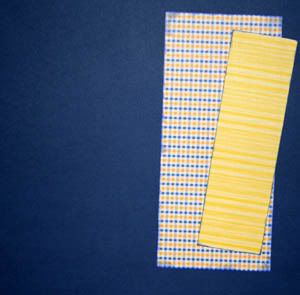 4. Now, you are ready to add the widest piece of PP. This one goes on the left and is angled down towards the left corner a little bit.
5. The next piece of PP is your sheet that is 3 x 5 1/2. I have chosen a PP that is of the same color family, but darker in intensity. This one is also angled down and to the left.
6. Your final piece of PP is a color that contrasts with your primary color. My primary color is yellow with blue being the
accent color. This piece of PP should be 2 x 4 1/2. You can see that it is glued higher but is still angled down and to the left.
7. Attach your photo. I angled mine sightly down and toward the lower right corner.
8. I next added my feathers, ribbon with side, borders, buttons, alphas, and rub ons.
I thought the feathers would be a fun texture to the page. Both of my boys were dressed in matching sweats. DS is missing a shoe which is why I have the arrow pointing to his little shoeless foot! And, then, the title was born!
I hope you liked this Monday Musing Mini Lesson that was posted on Tuesday. (ACKKKK) If you have any questions, please don't hesitate to ask.
Now, I promised a RAK to someone who posted on Sunday's entry. DH picked a number from 1 - 6 and selected #4 who is Alison! WTG, Ali! Having him pick the number takes the pressure off me, LOL! Ali, I will be sending something to you.
Now, anyone who posts to
TODAY'S MINI MUSING MINI LESSON
will be eigible for next week's RAK! Also, if you are in a foreign country, you're included, too! Come on, gals - leave a comment so I know how I'm doing! LOL I don't know if doing a lesson is helpful or not.
Thanks for stopping by! Have a good one!