Does anyone ever run out of photos? I wish we had more from when our son was in elementary school. We would take slides. Those slides wound up in the garage. The garage was so much fun during the heat of any Las Vegas summer! The temperatures in our garage were upwards of 125° easily. The slides are almost worthless. It is so disappointing. So many memories are now gone. We didn't know then what we know now. I am just grateful that I have the photos I have.
The LO I did today was of a herd of Big Horned Sheep we saw last month at Zion National Park. They were no more than 30 feet from the roadside! It was so exciting as there were about 20 of these magnificent creatures running across the rocks, posing on the crest of a hill, two were fighting over a female, and one was rutting! The noise he made when he repeatedly slammed his head into the tree was so loud! I wondered if he got a headache. The setting was so perfect! Here they were on the red sandstone rocks of Zion. The Big Horned Sheep are the state animal of Nevada. Those in the areas by Lake Mead are very small compared to the herd we saw. These animals were as large as mules! So, in homage to this amazing experience, I did a LO to make sure the experience isn't forgotten. Here it is: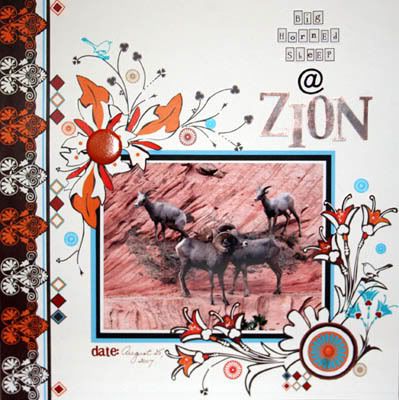 The background CS is a beautiful bright white. It surely doesn't look like it. I used the CherryArte Morocco line of PPs. The photo on the LO looks a bit on the red side - it doesn't on the actual LO, but when I shot the picture of the LO, it came out like that. I'm sure if I were skilled in Photoshop, I'd know how to fix the picture of the animals without adjusting the rest of the layout's color. The alphas are a distressed copper metal which is why there is reflection
Have a good one!